George Patton Karnes
(Son of John Moses Karnes)
(February 23, 1909 – February 15, 1950)
---
Wife: Alma

Sharon Karnes (September 18th, 1942 - September 6th, 2002)

Sarah Karnes (January 29th, 1945 - Present)

Connie Karnes (July 5th, 1950 –Present)

In September of 2007, I received the following from Bettye Sparks Busby of Paragould, Arkansas:

Sharon graduated in 1960 & was living at Lincoln, Ar. But the last Alumni letter we sent to her (Cardwell High School) came back. Sarah graduated in 1962 her married name Riley and lived at Harviel, Mo. Her letter also came back. Sharon married a Williams.

In July of 20011, my mother was contacted by Sarah, who is living in Springdale, Arkansas. I spoke with her on the phone and she gave me most of the dates above. We will be exchanging more information and photos in the coming months.
---
George Patton Karnes Went to the University of Missouri for 2 years but stopped after the stock market crash. In approximately 1936 he was hitching a ride on a train near Little Rock and fell off loosing his leg. After he healed, he started traveling again and ended up in California. he wired the family asking for money to return home. The family wired money, and rather than using the money for a ticket home, he bought a bicycle and rode from California to Senath. George was featured by Ripley's Believe It or Not for this amazing ride by a man with one leg. George sent many postcards during his ride to Senath, and his mother nicknamed the bike "Emit Martin" and when she would receive a postcard would say "Here comes Emit Martin a tootin' and a fartin'". When George returned to Senath, he gave the bike to John Paul Karnes.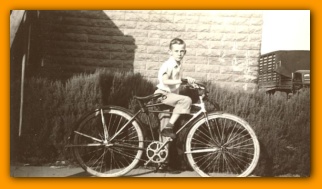 John Paul Karnes on George Karnes' bike
George lived at the Hotel Bertha in Senath. A few years later, a girl named Alma started working there, and they were soon married. After John Moses karnes died, the family moved to a farm on what was then highway 25 between Arbyrd and Cardwell. In his later years, he fell and broke the leg that had already been amputated below the knee and had to have it amputated above the knee. He never fully recovered from this second injury. His daughter Connie was born just after he died.
Alma later remarried Claude Sando. Claude had a daughter approximately Sharon's Age perhaps named Veronica or another "V" name. They remained there on the farm until Claude died and it is believed that she then moved to Arkansas.
George Patton Karnes is buried at the Lulu Cemetery South of Senath, MO.